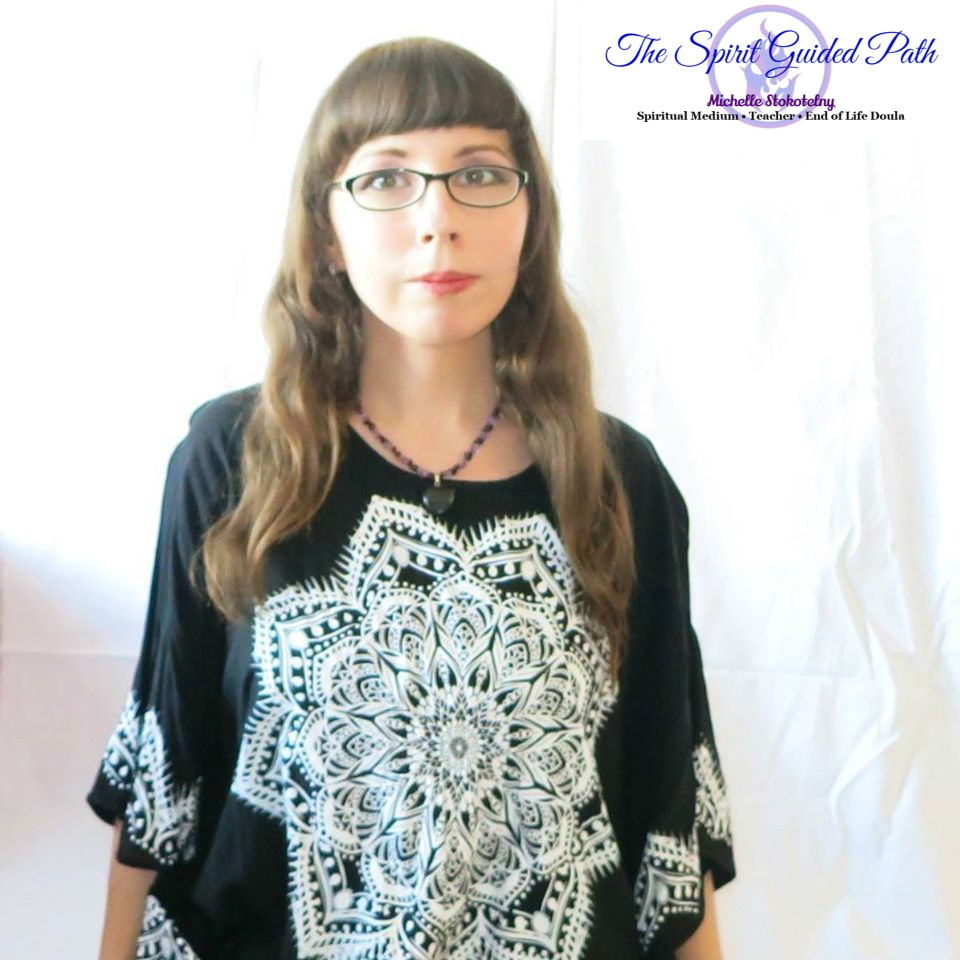 Located in Winnipeg, Manitoba, Canada
Michelle became aware of her intuitive abilities from a young age, as she constantly felt drawn to helping people through their most difficult times, and seemed to have the words flowing through her from her spirit guides to help those who requested guidance. She spent many years developing her mediumship abilities, and also earned her Certificate in Applied Counselling Skills in 2003.

Throughout her early adulthood, she worked with adults and children with developmental and social disabilities, as well as volunteered with the Victim Services Unit of the Winnipeg Police Service offering counselling to victims of crimes. Currently, she is completing her training to volunteer with Palliative Manitoba and is also a volunteer with online Facebook groups, such as supporting members in Esther's Rainbow   Spiritual Community for Bereaved Parents. Empowering people to make the best choices for themselves became a central focus in how Michelle approached being of service to people in her community.

Within a few years of developing her mediumship and counselling skills, Michelle began to give public demonstrations of spirit communication and also started offering private readings, spiritual counselling, and mentorship to developing mediums. She now provides private readings and teachings internationally to people in Canada, the United States, Europe, Asia, Australia, and more. She has been teaching courses on spirit guides, mediumship development,  healing grief from a spiritual perspective, and more for years, and does so now online with students from all areas of the world.


Specialties
Spiritual Medium • Teacher • End of Life Doula 


---
Reading Charge & Duration
30 Minute Mediumship Reading: $60 Canadian
60 Minute Mediumship Reading $100 Canadian


Reviews with Comments
Renee Buechler
Michelle is just fantasitc in delivering messages from loved ones!
Tony Chartrand
Michelle is a beautiful soul, with a great sense of humor, empathy, and knowledge. When she connects with spirit, the information that comes through is transformational and very accurate. I recently had a reading, and I keep recalling parts of that experience throughout my day, which has blessed me and greatly guided my life. Connecting with my great-grandma was a special treat for me, as well as learning of a spirit guide who I can now connect with at any time. Thank you, Michelle!
Linda Jackson
After my husband passed I decided I wasn't going to make any decisions I didn't have to unless a clear sign fell on my head from above (a little grumpy with God I guess). Although I believed that authentic Mediums exist, I had no intention of going to one. Then I received an email from a friend about some upcoming local event. I glanced at it just to see who would be there and Michelle's name jumped out at me. A bit of research into her website and Youtube videos later and I signed up for a reading. That first reading (in the Fall of 2016) was pretty amazing. Not only did my husband come through loud and clear in all his quirky glory, but a couple of my Spirit Guides showed up as well. My Guardian Guide even described something that was destined to happen a couple of days later.
Since that time I have had other readings with Michelle and taken several courses from her. I've been deeply involved in spiritual matters for a long time and this turned out to be a good way to try and move forward in a very altered life without my beloved partner physically at my side (although he does like to make a metaphysical nuisance of himself moving things about and playing with the electricity in the house ~ just kidding, of course, I love that he shows up pretty much every day for short visits).
I've come to know Michelle, not only as a gifted, ethical, and empathic Medium but as a friend. She is someone I trust unabashedly . . . kind, gentle, humble, but with the determined heart of a true spiritual warrior. I wholeheartedly recommend her to anyone wishing to connect with their Spirit Guides or loved ones on the other side.
Maxine
Thank you, Michelle, for connecting me with my son this morning. So love to hear from him and the kind and gentle way you conveyed his messages are truly heartwarming to a mum that is missing their child that has gone on before them. I would recommend you to anyone that is looking to make contact with their loved ones on the other side of the veil.
Kelli Poppe-Havel
It has been such a privilege, honor and immense blessing to have experienced readings as well as studied under Michelle, and I find that for someone who usually has a way with words, I am at a loss for words that could express my heart for this beautiful soul. Just how can you describe the indescribable? Michelle's huge heart, sincere compassion, knowledge, and understanding bring insight, gentle guidance, affirmation, encouragement, support, and healing. Her approach to connecting you with spirit is practical, loving, open, and magical. It's as if a light is being shone on a pathway illuminating the journey just a little brighter after you have shared a priceless moment with her. Thank you for all that you do, all that you give, and all that you are, my friend. From my heart to yours. . . gratitude and love flows. . .