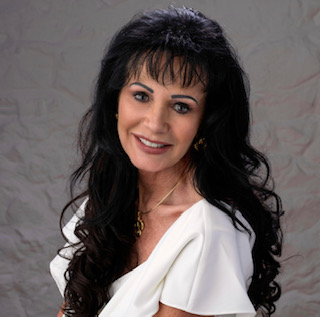 Located in Hythe, Kent, England
Pauline was born in Ramsgate, Kent (UK) on May 26, 1950. She attended a Church of England school and was always very interested in church prayers and its teachings.
Her first encounter with spiritualism was when she was 12, announcing to her mother that Queen Elizabeth was going to have a baby. (The very next day the newspapers officially announced it in the newspapers).
Following this experience, Pauline developed a huge interest in 'life after death' and gravitated towards those people who also share her ability to link with another dimension.
Pauline is now a full-time, internationally known medium. She has a spiritual centre in Hythe, Kent – The Robin and Rainbow Centre – where she runs workshops and gives demonstrations.
Pauline has worked for the Spiritualist Association of Great Britain (SAGB) travelling to London twice a week, where she tutors one of the mediums and runs circles and workshops as well as giving demonstrations and one to one readings. This has allowed her to meet many people of varying nationalities which Pauline views as both a welcome challenge but also an honour.
Initially, she trained as a hairdresser and then ventured into working as an assistant for the elderly and later helping children with learning difficulties. These experiences allowed her to develop compassion and humility and most importantly – the art of listening to others.
For 13 years she volunteered as a hairdresser at a local hospice which she found fulfilling both for herself and valued by the patients who were nearing the end of their Earthly life. With hindsight, Pauline now realises that this work was a great asset and a very important part of her spiritual education, for it enabled her to assist others, while both she and they were learning how to cope with imminent death.
Her parents Ron and Elsie Nayler, (both have passed) were an enormous help and support during her development. The offered support and understanding, welcoming the great gift the spirit world had blessed their daughter with. Her mother often accompanied Pauline when leading various mediumship demonstrations. Pauline says she still supports her today, through a firm connection from the spirit world.
Pauline is Clairvoyant, Clairaudient, and also Clairsentient. From a very young age, Pauline knew things intuitively and could both hear and see those wishing to communicate. Her father continues to communicate with her following his death and this Pauline finds both comforting and reassuring.  The guidance he gives is loving and always helpful.
Pauline also sits to receive trance energy and has received lovely words of wisdom from the spirit world. (This work is of great interest to Pauline and she feels that the words channeled to her during these sessions are meant to be universally shared.)
In time, Pauline decided to look into developing her mediumistic gift and found her way to the Spiritualist Church in Hythe, where she was taken under the wing of Terry Tasker.
He is a very well-known UK medium who for many years worked at the (SAGB). She was invited to sit in Terry Tasker's development Circle and also attended many workshops at Sheila Frenches', Ersham Star Centre in Canterbury, Kent.  Pauline also trained for 2 years as a spiritual healer.
Twice a year Pauline would attend weekend seminars, which used to be held in Eastbourne by the (SAGB) where she worked alongside such mediums as Gordon Smith; Billy Cook, and Mary Armor.
Pauline has worked for numerous Spiritual churches during the last l6 years and attends various ones cumulating in about 3 different churches a month. Pauline's main work now is as an international clairvoyant medium. She has travelled throughout Great Britain, France, Spain, Germany, Vienna, San Francisco, and also South Africa.
Pauline loves to watch the faces of the recipients when demonstrating abroad for often translations have to both given and received. Watching the realisation dawn on another's face when messages are received is quite wonderful to her.  This reassures and cements the true partnership which exists between the spirit world and, via Pauline, to the one who needs the reassurance given.
Spiritualist churches are places of peace and love and offer a coming together of like-minded souls. Her audiences send love, support, and positive thoughts to Pauline, which all help with the successful communication from the spirit world. Her greatest pleasure, Pauline says, is witnessing the joy on people's faces after they receive guidance and messages from their loved ones, which can then help them to continue their journey through life.
Pauline says her best day was giving her first message.  The worst was losing her father, who passed first.  However, this experience helped to turn Pauline towards developing her spirituality more deeply.  Her philosophy, acknowledging the sacred gift she has, is to live life to the full and become a better person.  She is willing to learn from the mistakes she has made and to improve in any way that is open to her.
Pauline finds that the special things she values are people; books; music; pets and various possessions which are of great sentimental value to her because they were gifts from her parents, and she regards them as priceless.
She enjoys hobbies the main one being rock 'n' roll dancing; going to the gym, and cycling also gives her joy. Pauline also has a particular interest in the Aspinall Foundation, which runs zoos, famous for reintroducing protected and rare and endangered species, to halt the extinction of rare and endangered wildlife.
If Pauline were to be allowed one wish it would be to hug her parents once more and ask them for details about the spirit world from their current perspective so that she could greater understand the spirit world.
Her second wish would be to have the opportunity to meet the great medium Gordon Higginson a former president of the Spiritualist National Union a brilliant clairvoyant and teacher, to learn about his life from child to adult.
Her third wish, last but not least, is to meet Elvis Presley and to hear him sing.
Specialties
Helping parents who have experienced the passing of a child.
---
Reading Charge & Duration
60 minutes: $120 USD ($20 discount for Helping Parents Heal members)
---
Testimonials
Pauline is a unique, amazing clairvoyant who has the ability to provide information in a clear, concise manor.
Her abilities never cease to surprise me as I often think 'how does she know that?' or 'has she met that person?' due to the level of details provided.
I have often referred friends to Pauline.  Each and everyone feeds back the same 'wow!, how?, amazing!'
I enjoy every reading I have with Pauline and always look forward to the next.
Excellent every time! 
~Kurt
I first met Pauline over 25 years ago. My mother, Stella Blair, ran twice-yearly teaching weekends at Eastbourne, and Pauline was then a student there.
Pauline and I still continue to work together to this day.
Pauline has many spiritual gifts, and her connection with spirit through her healing, sittings, and demonstrating is second to none. She is always immaculately presented, and truly understands the meaning of respect and sensitivity when working with spirit.
Over the years I have known Pauline, I have watched her develop into an outstanding medium, personally, I feel, one of the best in Britain.
Pauline is always professional in every aspect of her work, and I would not hesitate to recommend her.
Please do not hesitate to contact me directly, if there is anything else I can help you with regarding Pauline.
~Annie Blair
I met Pauline in September 2019, I had lost a close family member to cancer the year before. I felt lost in life, with no direction, and I had no one to really talk to about my emotions. I had been in a poor state of mind for some time. Pauline was recommended to me by a friend, so I made an appointment to see her.
On turning up, Pauline was friendly straight away and put me at ease. We discussed why I was there and what I expected from the reading.
The reading was amazing, very "pictorial" as Pauline said. Names of family members and specific items that came up would have been impossible for anyone but me and the person who passed to know. How could this be even possible?!
Out of the blue, Pauline said, "You have a pair of shoes that are too tight". Just two days prior, I attended a wedding and had to use a shoehorn to get my feet into brand new shoes that were extremely tight.
Not only has Pauline blown me away with the accuracy of the information she shared during my reading I came away happier, with a clear mind and sense of direction.
I would recommend Pauline Mason to anyone, just as I have done, and will continue to do. Pauline has a spiritual awareness that I have never seen in someone before, amazing kind lady.
~Aaron Thompson
It is with great pleasure to tell you about Pauline. Seven years ago I lost my partner, and then my mother nine days later. Someone gave me Pauline's card, but since I already had a friend who was a medium I didn't feel the need to visit another.
But strangely, Pauline's card kept appearing by my chair (I now know why) and I finally listened to the voice that encouraged me to book a reading with Pauline.  I was amazed at the clarity of the messages she was receiving from my partner, and my mother, and to see that she could so clearly convey their individual characters.  The messages were so relevant that I knew with no doubt she was passing messages meant for me and no one else.  
I have since become a medium myself, but if people come to me for a reading I always persuade them to see Pauline too. I want them to have a reading from the very best because I know how much comfort her readings bring.  
I have no doubt whatsoever when recommending Pauline for private readings.  
~Anne Hills
Pauline Mason has visited the Island of Guernsey in the Channel Islands for some 15 years but she has always been very busy with Workshops, Demonstrations and Readings.
However, this year I decided that this would be my very first reading and managed to obtain a private reading with her. Pauline completely changed the way that I thought about Mediums. My reading was all I hoped and more.
Everything about the reading was incredible, accurate and uplifting with compassion and reassurance.
A prime moment was when Pauline, who had never met my mother, who passed a few years ago, provided me with very specific details of my mother, even down to the colour of her eyes, mannerisms and also that she was a Pastry Chef who cooked for Nobility.
Pauline could not have known any of these facts, but my mother cooked for Sir Winston Churchill at his family home at Chartwell.
My experience was absolutely Amazing. I came away feeling elated and highly recommend Pauline to anyone for private readings, as she possesses an impressive gift
~Trevor Pearson
I met Pauline Mason in 2006 following the death of my beloved mother. The intimate and absolute accuracies of survival evidence, which Pauline's trusted spiritual guides conveyed through her to me, marked the beginning of my own healing.
Pauline works gently, reverently, concisely and with absolute candour.  If you are seeking guidance from 'behind the veil' then look no further.  She is at the top of her field and deserves to be.
Pauline's honesty, integrity, compassion and grace are without question.  I was blessed to have met her when I did.
Author of: In Light and In Shade (Ozark Mountain Publishers)
~Patricia Irvine
I have known Pauline Mason for many years on a professional basis and it has been my pleasure to watch her work on the platform at the Tenterden Spiritualist Church on many occasions.   I have witnessed her giving so many outstanding messages from those in the spirit world to people in the congregation who flock to see her work. I have been fortunate enough to have received messages (via Pauline) from my best friend Sandy who passed to spirit 10 years ago from secondary cancer. When my friend 1st came through Pauline described her correctly, her height, hair colour, her characteristics, and the conditions she passed over from. The evidence given was 100% accurate and left me in floods of tears.  My friend has come through on other occasions with Pauline, and even more evidence portrayed about her, her family and family values, she also described correctly the very special friend/sister relationship we had and the closeness we shared - which was all true. I remember she told me about the day she passed over in hospital...who was there and what happened  - again 100% accurate and yes more tears from me !!! She has often commented on my friends' wig (chemo took her hair) and what she would do with it to make me laugh. All these things and more no one would have known.   These are only a few pieces of evidence I have received but there are so many more that I have witnessed  Pauline giving to others at the church ... all with the same amount of accuracy and truth.   I truly believe that Pauline Mason is a very gifted medium who gives herself wholeheartedly to serve spirit and the spirit world and pass on messages of love, hope and truth from those who have crossed over to those left behind grieving. Her evidence is always given in a professional manner but filled with a sense of humour,  compassion,  empathy, truth, and always with love.  Pauline Mason has been truly blessed with a wonderful gift that she selflessly shares with others. 
~Sandie Hawkins
Having known Pauline for a number of years I was delighted when she asked me to write a testimonial for her. She is a very warm, honest, genuine person and as I have got to know her more my trust levels have risen. I am a naturally suspicious controlling person. I have often tried to test her when she has been kind enough to speak to me about certain people in my family who have passed on. There have been a number of things that she could not have possibly known about, the one example that I can think of is my mothers' fur coat !!!!
I am animal mad and I have done a fair bit of work with certain animal charities including Born free, so I am not someone who could wear a fur coat, however, my mum had a number of them which I promptly got rid of, however, I was unable to dispose of one in particular just because it meant a lot to both of my parents, partly because it cost my Dad a massive amount of money for which he worked very hard and it felt wrong to put it in the skip, he would have surely come back to haunt me!  I kept moving it from one place to another and I still have it hidden in the back of a wardrobe. Pauline sat with me one day and said that my mother was there and was concerned about her fur coat as it wasn't being stored correctly, this was a day after I had moved it into our boiler room, which on hindsight is a very bad place to store it as the heat is far too much……
This is just one example, each time I have sat with Pauline I am shocked at her accuracy and she is able to work very quickly. I would highly recommend her and cannot emphasise how much I enjoy her sessions and the best part of it all is that her sessions are as good on the phone as in person.
  Catherine Best Ltd.
Jewellery designer
Catherine Best, The Mill, Steam Mill Lane, St. Martins, Guernsey,  Channel Islands, GY4 6XE Tel: +44(0)1481 230030
~Catherine Best